Luigi Melluso
Luigi Melluso is a Neapolitan brand that refined men's suits, jackets and coats makes while preserving the Neapolitan tailoring art. They are located in Casalnuovo di Napoli, better known as the place where the best tailors come from. Each tailored garment is distinguished by the use of the best fabrics. Their luxury fabrics are carefully selected from the largest Italian and foreign manufacturers. Last but not least, in respect of the highest Neapolitan school of tailoring, their clothes are cut and sewn by hand and shaped on the male body. Luigi Melluso also makes the suits and jackets for the French fashion house and brand Cifonelli Paris.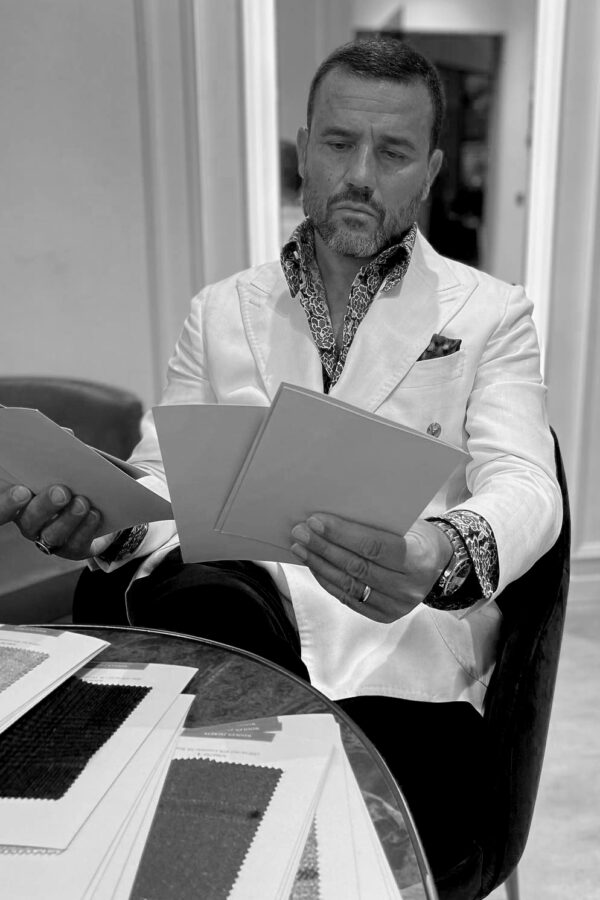 Collection
We have a special and luxurious collection from Luigi Melluso. The emphasis is on beautiful fabrics and Neapolitan tailoring characteristics. For example, we have opted for wider lapels, pleated pants, patch pockets, pleated shoulders, and double stitching. Our collection is unique, because you will not find it elsewhere. For coming fall winter we will serve you flannel fabrics with beautiful stripes and checks in a double breasted construction. In this way we hope to provide you a special item. We only selected the best fabrics, like a super 150 wool and silk blend for a navy herringbone suit.
MTM & MTO
With Luigi Melluso we have the possibility to have garments made to measure. For example, we will hold trunk shows in the Netherlands and have factory visits in Napoli. We will offer our customers the opportunity to travel together to Napoli and have a jacket, suit, trousers or coat made to measure. This way you can bring in your own preferences and have a unique item made. If you are interested, please contact us to look at the possibilities.
Time for Moda
Average rating:
0 reviews